At the end of the semester, me and my friend, Quinte, went on a trip to Taipei, Taiwan. For her it was a chance to see her boyfriend for the first time in several months, but for me it was a chance to celebrate the end of exams!
Friday, 7th — Tired!
To keep costs down, we decided to book a flight from Singapore to Taipei at an off-peak time… So our flight was at 00:55, which made us pretty tired for our first day in Taipei! The actual flight was okay and arrived at around 5:30.
It turns out that the international airport is actually about 40km from the city centre, so we took a train into the main station in Taipei. Maarten, Quinte's boyfriend, met us at the main station and we all headed for our hotel, which was called Art Inn. We left our luggage there, but we couldn't checkin until 16:00, so we headed to Maarten's student accommodation to get some much-needed sleep on a sofa!
We then headed to see the Chiange Kai-shek Memorial Hall, which is dedicated to (believe it or not) Chiange Kai-shek, who was the former president of the Republic of China. As far as I am aware, it is this guy that makes Taiwan politically separated from China today. We had a quick look around the museum there, and then watched a guard change routine (which takes place every hour). After a very complicated, synchronised routine we were very amused to see that there was a guy brought in to straighten up the guards' suits!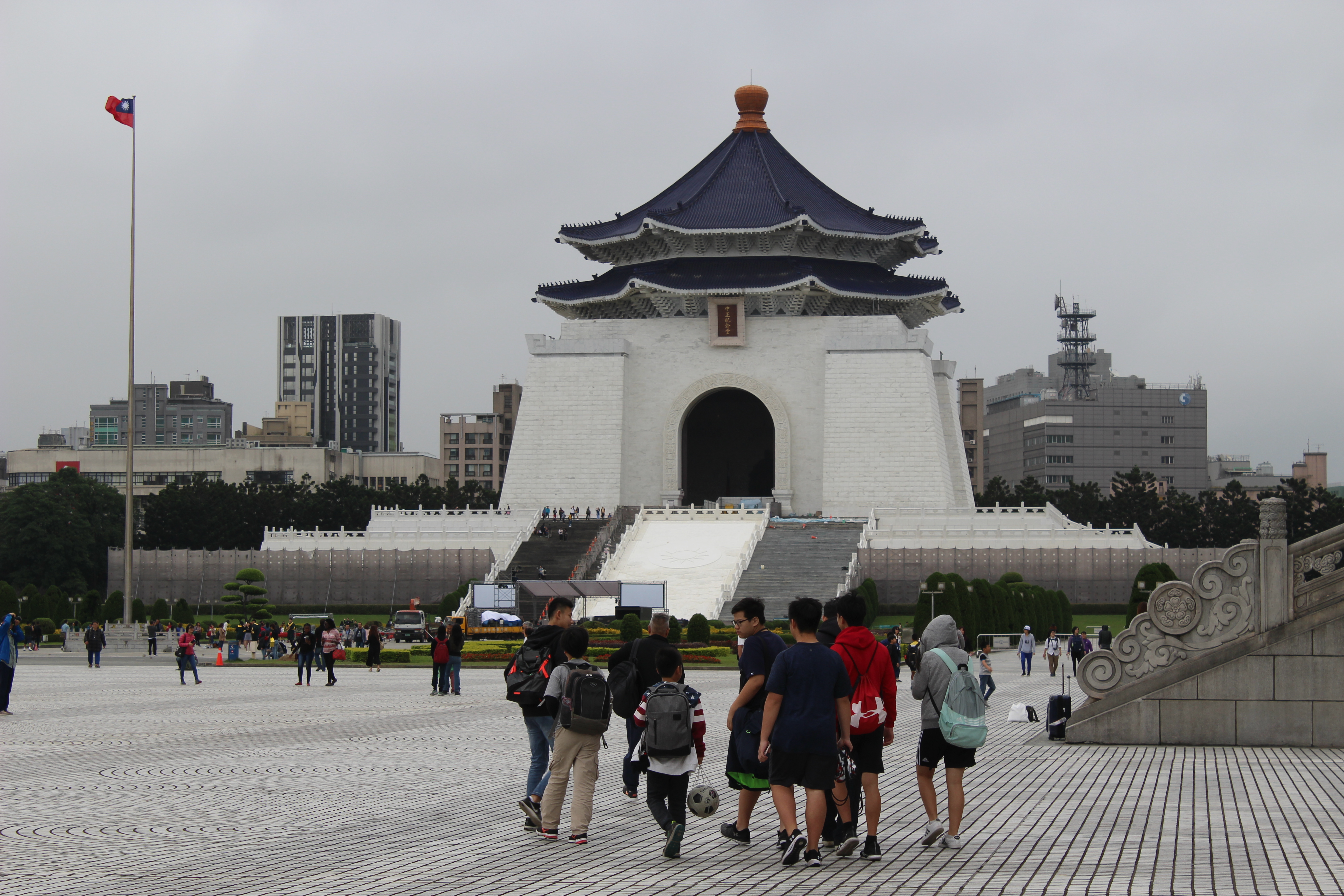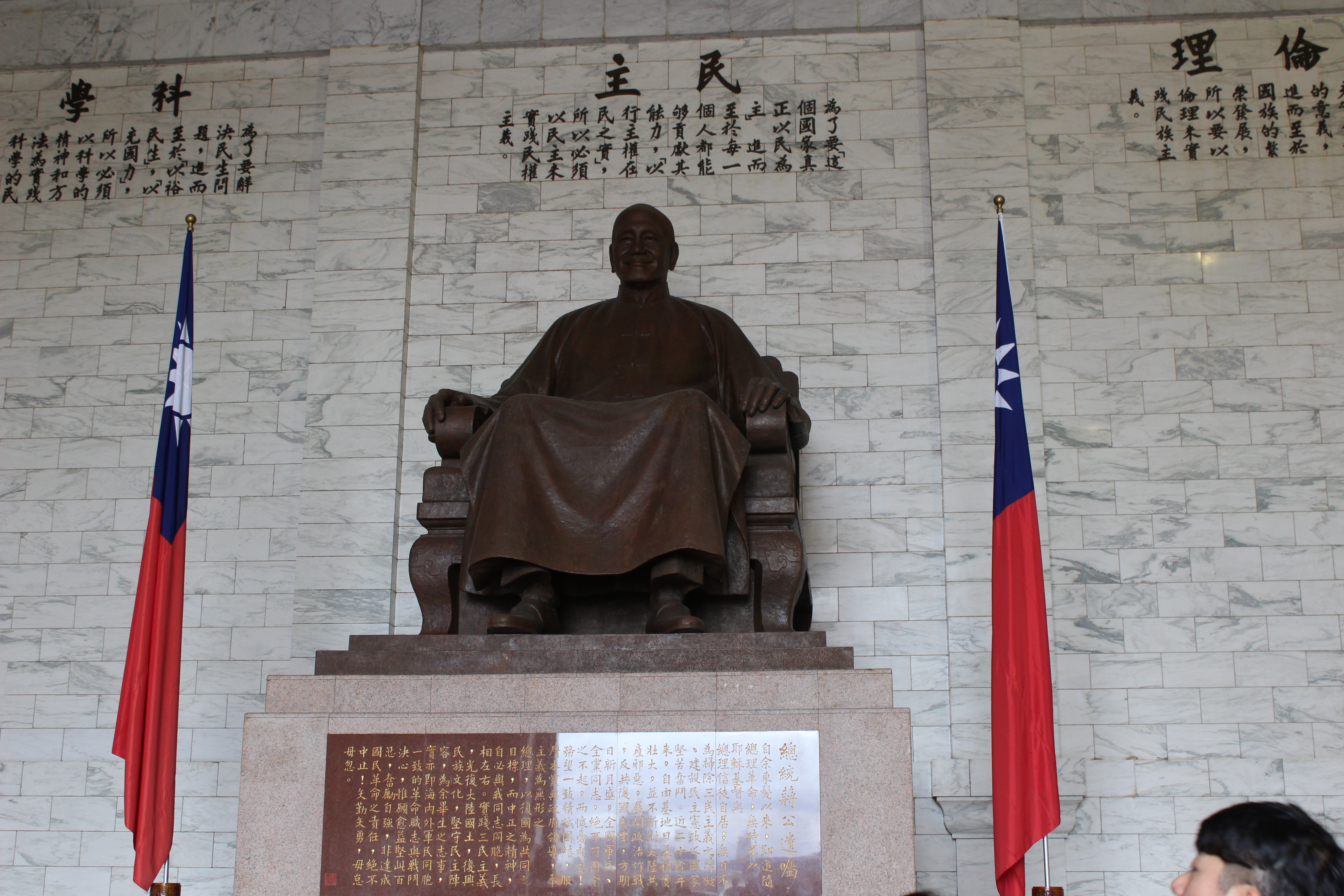 After we had recovered from the lack of sleep, we decided to explore a bit more of Taipei. Taiwan is famous for its night markets, so we headed to one of the most famous: The Shilin Night Market. As you might expect from a night market, it was essentially a large set of streets with lots of individual stalls selling food. The first exciting thing that caught my eye was a grilled beef stall — the exciting part was that they mainly cooked the meat with a flame-thrower!
We then headed underneath the market to see a standard food court. We had a pretty normal meal of fried rice and noodles, and then I also ordered a "comprehensive of seafood coffin bread". It was essentially fried vegetables and seafood in a weird, sticky paste, all slopped into a fried piece of bread. It was very nice to eat, but (with everything being fried), the calories could be felt clogging my arteries.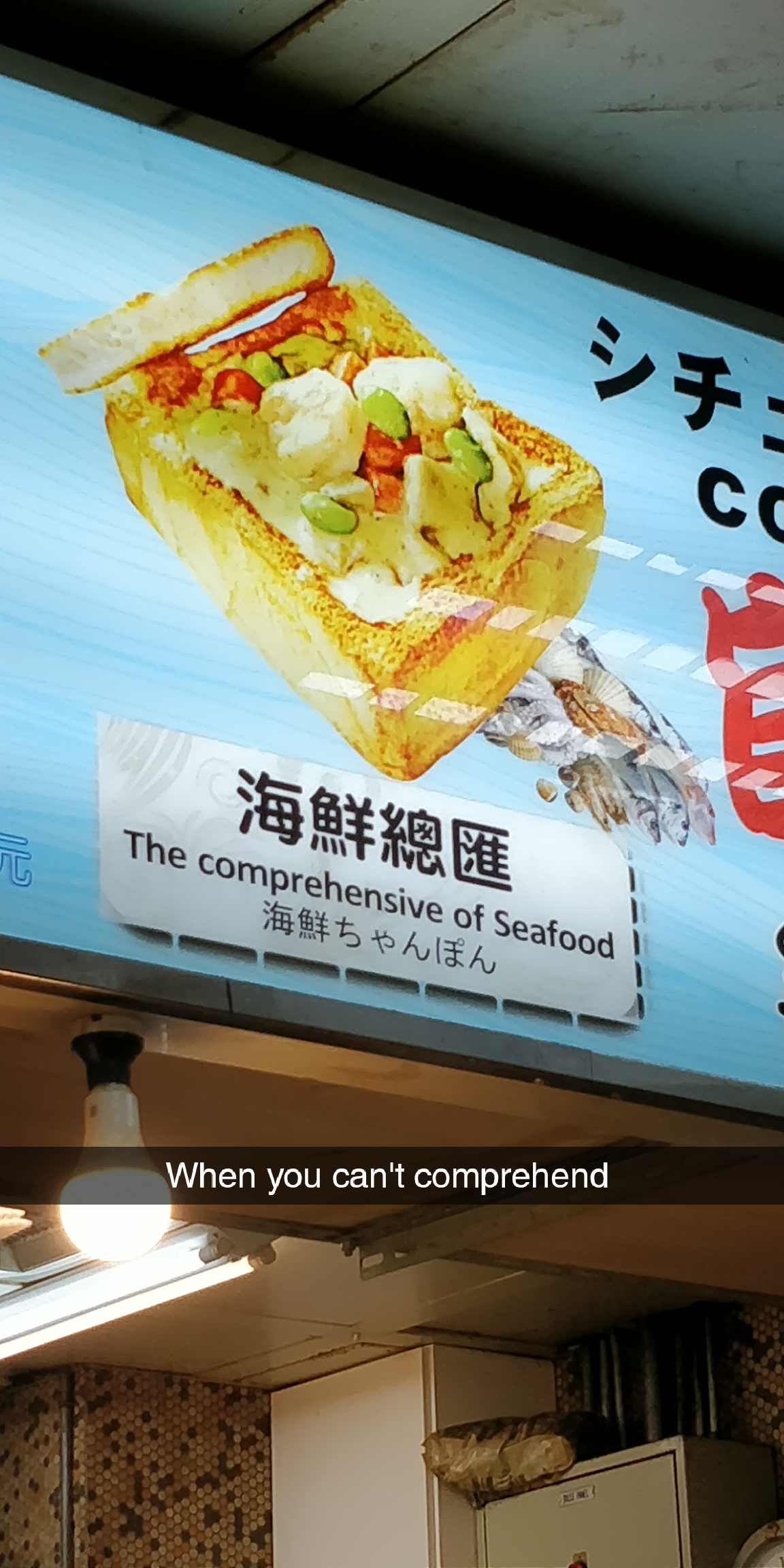 We then headed back to the hotel to have a bit more of an interesting day the following day!
Satuday, 8th — Temples and Food
One of my other friends, Jack, had just finished exams a day later than me so he was exactly 24 hours behind me (and was therefore around with nothing to do from 5:30 in the morning like I was).
We first headed to Lungshan Temple — a Chinese folk religion temple. The temple itself was intricate and very beautiful, surrounded by the busy city skyscrapers of Taipei. Immediately outside the temple there was a waterfall and garden.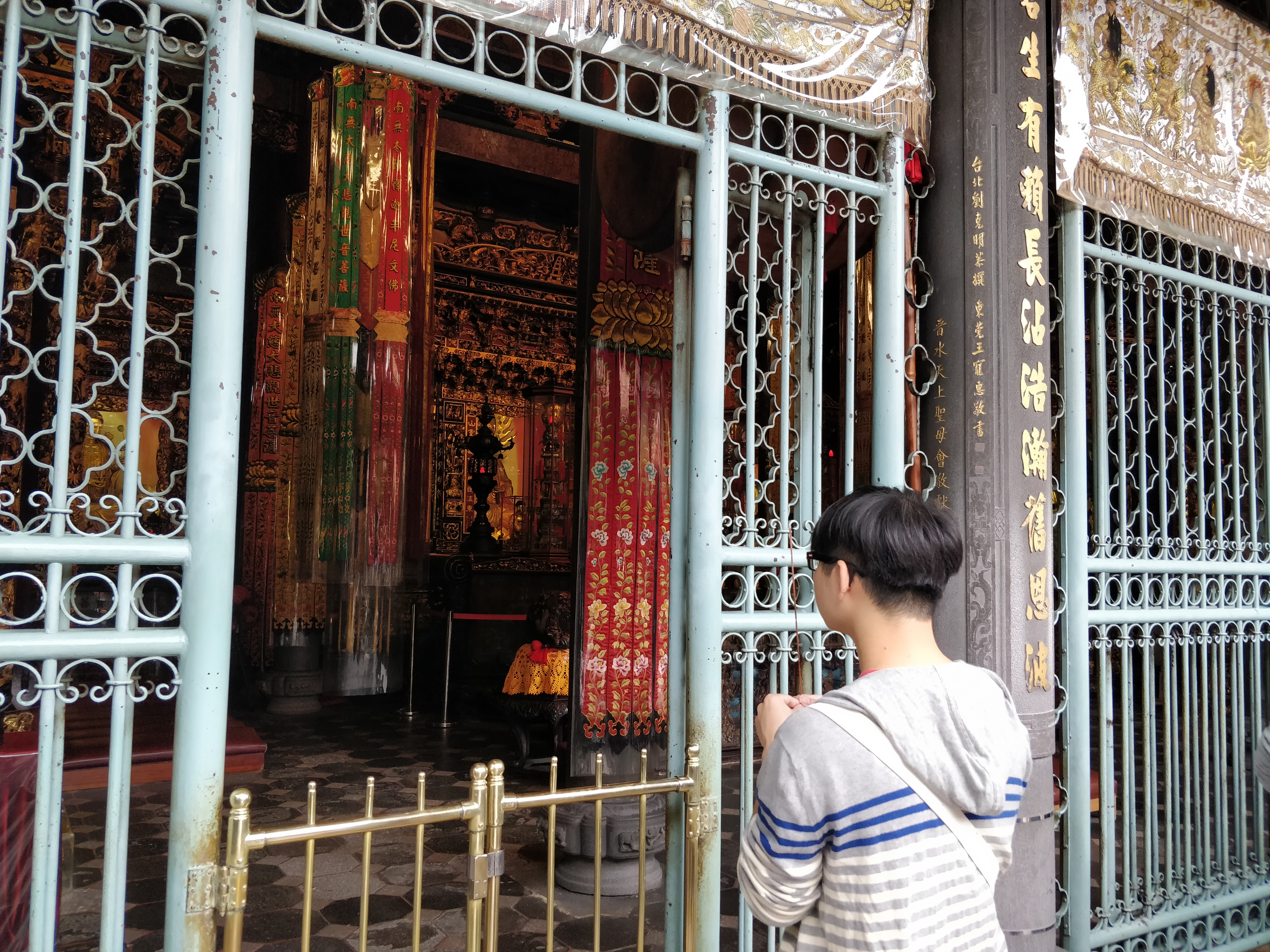 We then headed back to the nearest MRT station to go and find some lunch and more temples around Taipei. Just by chance, we stumbled upon a Chinese/Japanese food place on Dihua Street with small Asian-looking tables. We thought it looked quaint.
We then had a look at two more temples in the area, before heading back on the MRT to go and see the Taipei 101 (currently the second tallest building in the world!). We wanted to go to the top of the tower, but the weather was unfortunately pretty bad… So we drank a large amount of bubble teas instead!
After that, we decided to head back to the centre of the city and get some food. We settled on a Japanese restaurant where I ate 'parbeque' pork. It was very good!
Sunday, 9th — Yangmingshan National Park
Jack and I woke up semi-early (it was still considered morning) and headed to Yangmingshan National Park with the aim of climbing to the largest peak.
The buses were pretty confusing on the way and then after about an hour of travelling the bus unexpectedly stopped… Not being versed in Chinese was a problem for the first time on this trip since the bus driver didn't understand a word of English. Fortunately there was a woman there who understood both Chinese and English and told us that, despite the bus not stopping where it was meant to, this is as good as we'll get.
As it turns out, this woman was also planning to do a similar walk to what Jack and I had planned and offered to show us the way. We didn't hesitate to accept!
We first had a little walk around the gardens in the national park, where there was a famous flower clock, which we assumed to be a clock covered in flowers. However due to the time of year there were actually no flowers at all and was just a clock in the ground. The flowers had apparently been removed to 2 days prior to our visit!
The woman we bumped into was called Bee, and it turns out that she was a retired academic in plant biology. We had a really nice chat while we walked up the mountain!
The weather still hadn't improved from yesterday, so we didn't go all the way to the top. In fact, we stopped halfway to get a brilliant view of Taipei City and all we could see was cloud and fog!
Since we'd taken a break from walking when we reached the halfway viewpoint we were starting to get a bit cold, so we didn't stay long there before heading back down. But we did have an excellent day chatting with Bee and walking through the jungle on the way up the mountain, even if it was raining and cold!
Still slightly completely-and-utterly soaking wet, we headed to the other side of the city to meet Quinte and Maarten to climb another — but nowhere near as large — mountain called Elephant Mountain. It is supposedly supposed to resemble an elephant, but I personally didn't see the resemblance. We hurried there to make sure we saw the sunset, which was supposed to be excellent from there. Due to the weather, and wasn't as excellent as it should've been, but it was still a very great view of the city!
We stuck around long enough to see it get dark and the city to lightup. Notice in the picture below how the Taipei 101 and the one next to it towers above the clouds!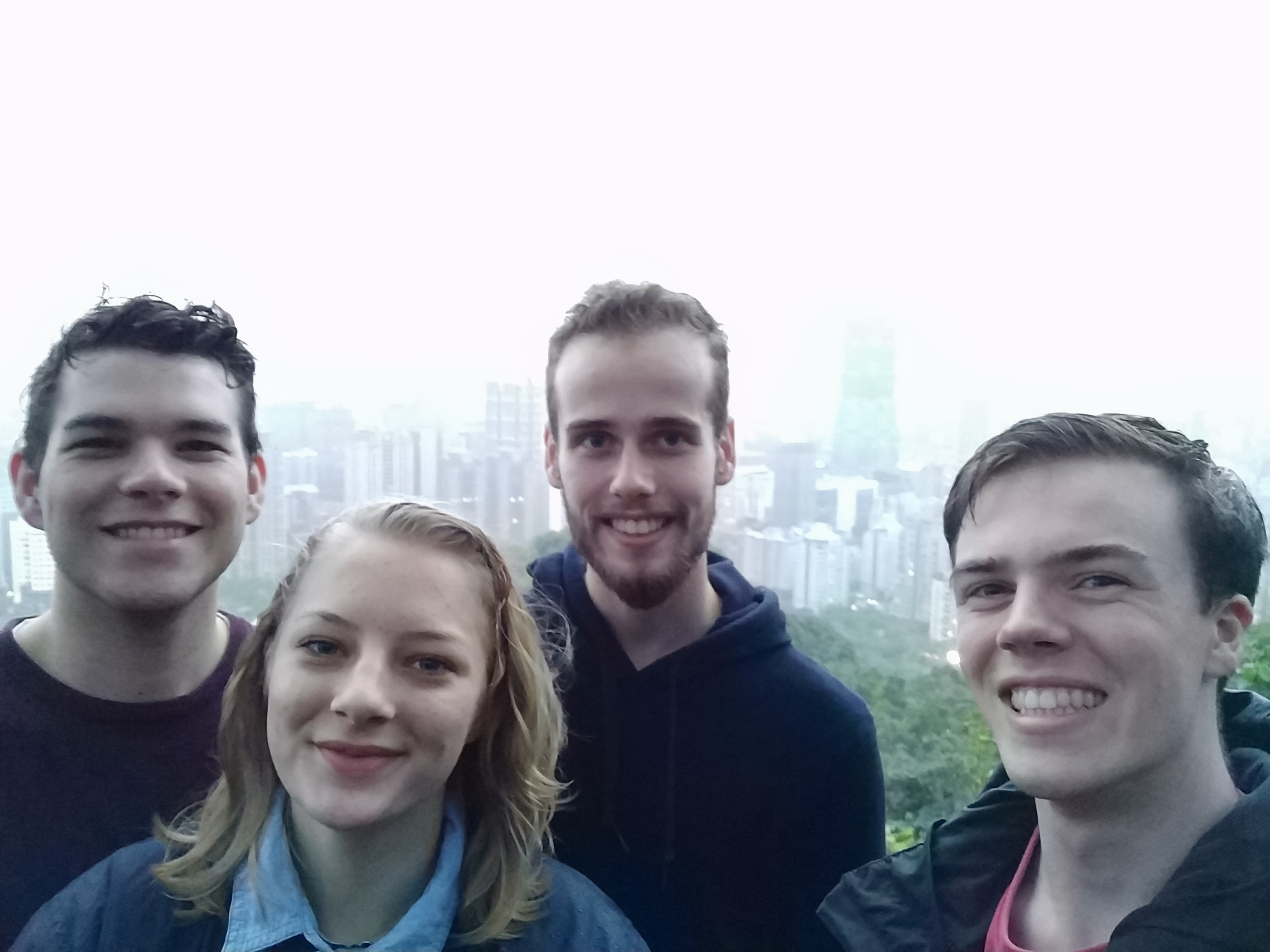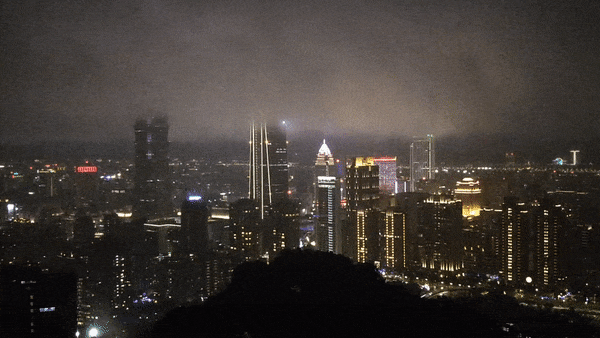 We then headed down the mountain and back into Taipei 101 for another bubble tea, killing time before our booking at Taipei's most famous and popular restaurant*: Kura Sushi.
*I don't actually know this, but it was pretty busy.
Kura Sushi had several rows of tables, all based around a conveyor belt of food (usually sushi!).
The idea is that you would see whatever you wanted pass by you on the conveyor belt and you'd pickup whatever you fancied the look of! You then keep your plates to slot into a small hole at the bottom of the table — you're then charged per plate.
As a cool addition to this, they've made it into a game where when you slot in 5 plates you either win or don't win a small a toy from a capsule toy machine — I'm not sure how best to describe the machine other than that, but it was a bit like this. We ate from about 30 plates, so we had 6 attempts at winning and won twice. We won 2 small key-rings that were to do with the restaurant (one was a menu and one was the restaurant itself).
We then had some drinks in Taipei Taipei Hostel, where I had the `Tipsy Taipei` cocktail. Safe to say I only had seven of those.
Monday, 10th — Jiufen (Spirited Away)
The film, Spirited Away, is supposedly based upon a town just outside of Taipei city, so we thought that we would pay a visit to see what it was all about.
We took a bus for just over an hour outside of the city to Jiufen.
Jiufen is a town that is essentially based around one big street, so we started by wandering down said street. Of course, we stopped for a bubble tea along the way, but then we became hungry and went into a restaurant for lunch. It turns out that this restaurant has an excellent view over the valley below, but we didn't see a great deal due to the weather.
We were told that the building in the picture below where the lanterns are is the building that Spirited Away is based from… Personally I don't see it, but I'm happy to be proved wrong on that.
As well as serving very delicious food, the restaurant also sold Oolong tea in traditional tea-ceremony-esque pots — and it was very nice! I now just need to get a hold of the pots and cups that they used for home…
After lunch, we wandered slightly further down the hill to see the famous tea house (the building that Spirited Away is supposedly based on)… Judge for yourself if you think that they're related!
After that day out we realised that very little (in fact none of it) resembled Spirited Away, but it was still a very nice place to visit.
We headed back to Taipei city to eat at the Raohe Night Market. It seemed very much like every other night market, but we enjoyed eating there!
One interesting thing at the market was the robot that was slicing noodles into a pot… Not something I'd even thought about before.
There was a Hindu temple nearby which we had a little look in. Just like any other Hindu temple, the attention to detail on the actual temple is extraordinary. The edges of the roofs are usually covered in small models of gods, full of colour and intricate detail.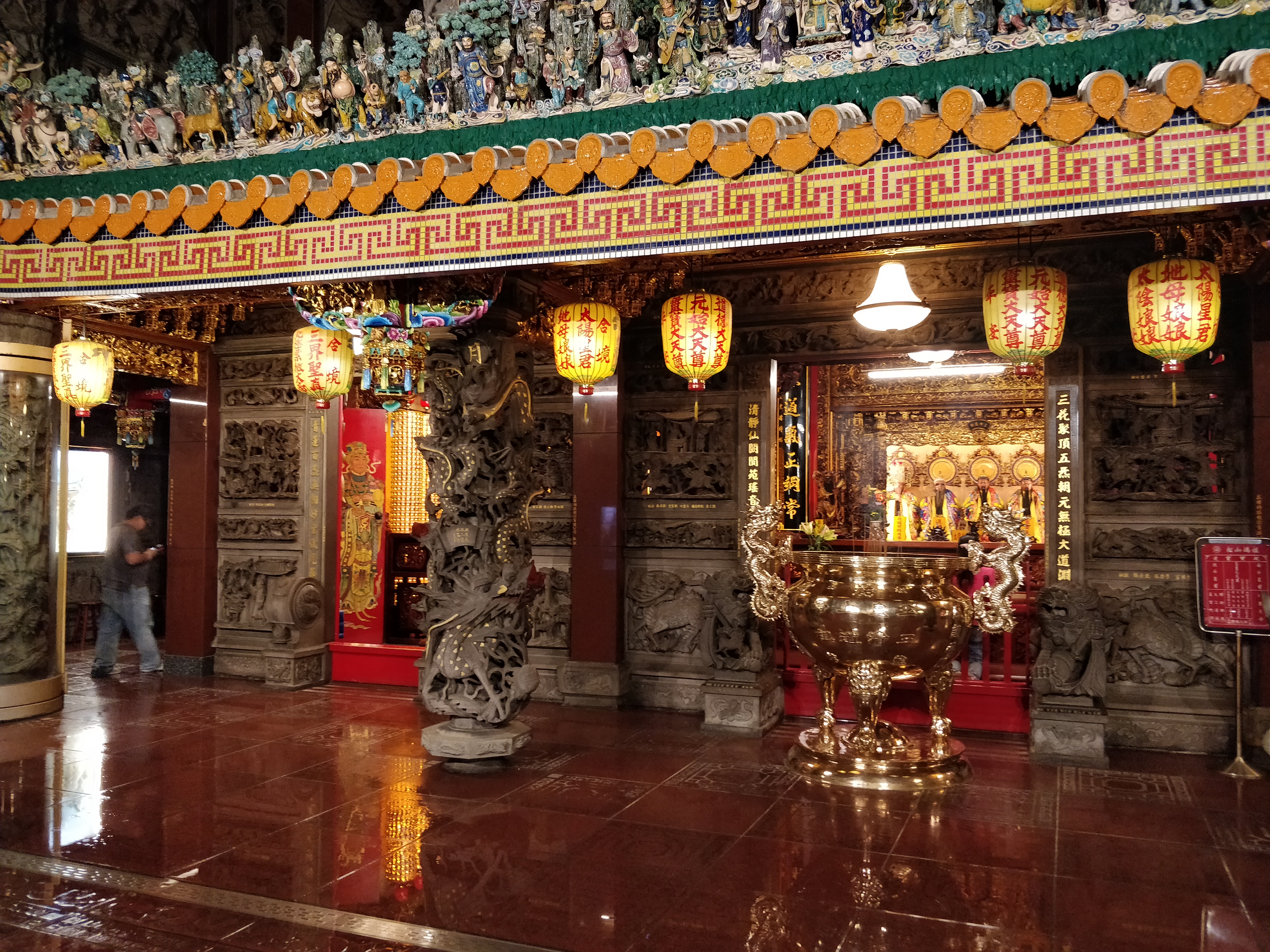 There was a slightly odd model with arms coming out of where you'd expect eyes.
Jack and I then headed for cocktails in a bar before calling it a night.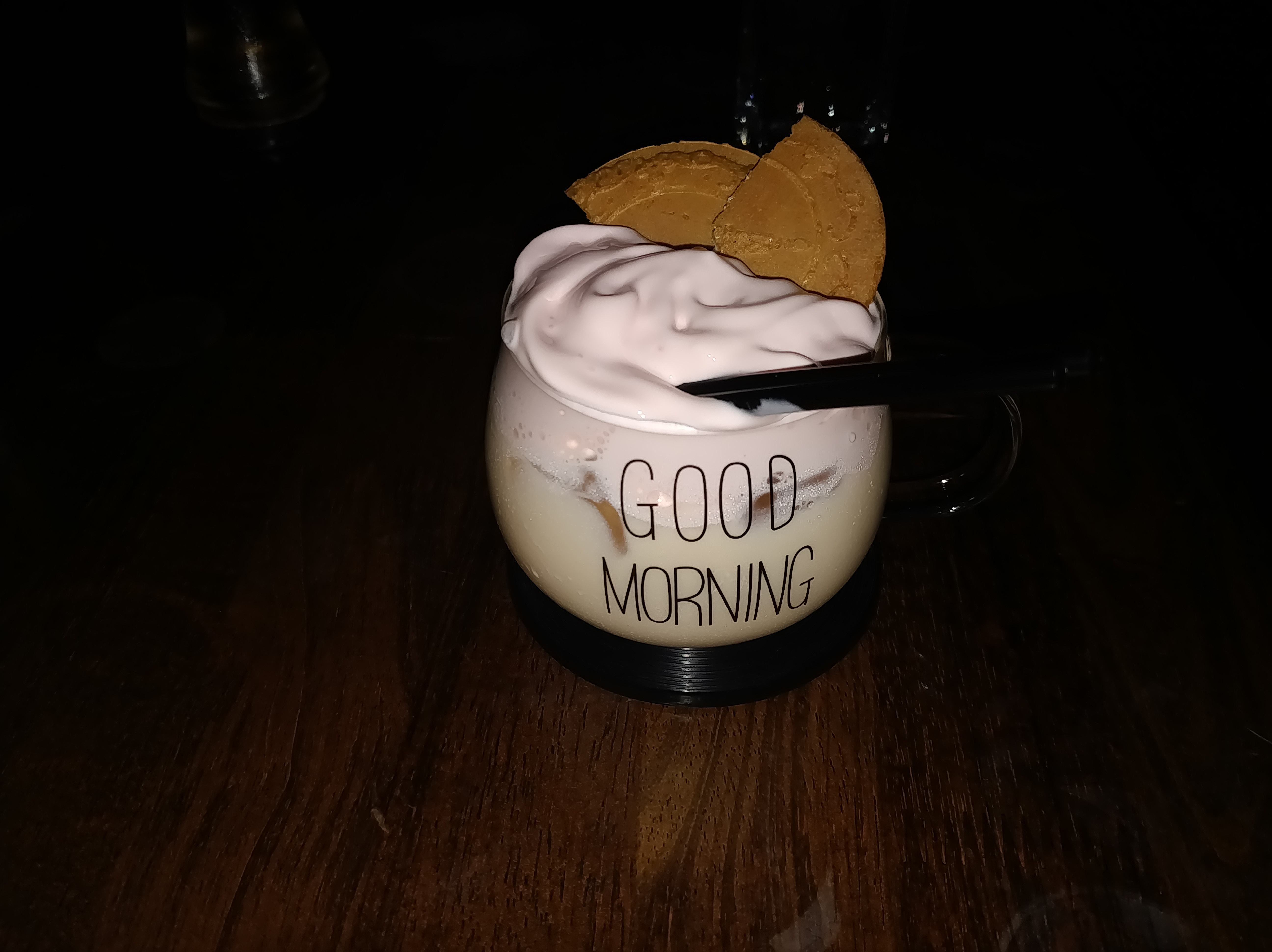 Tuesday, 11th — National Palace Museum
I woke up for my very last day in Taiwan. Bee (the woman who guided us in Yangmingshan) suggested that we should visit the National Palace Museum, which is where many of Taiwan's national relics are kept.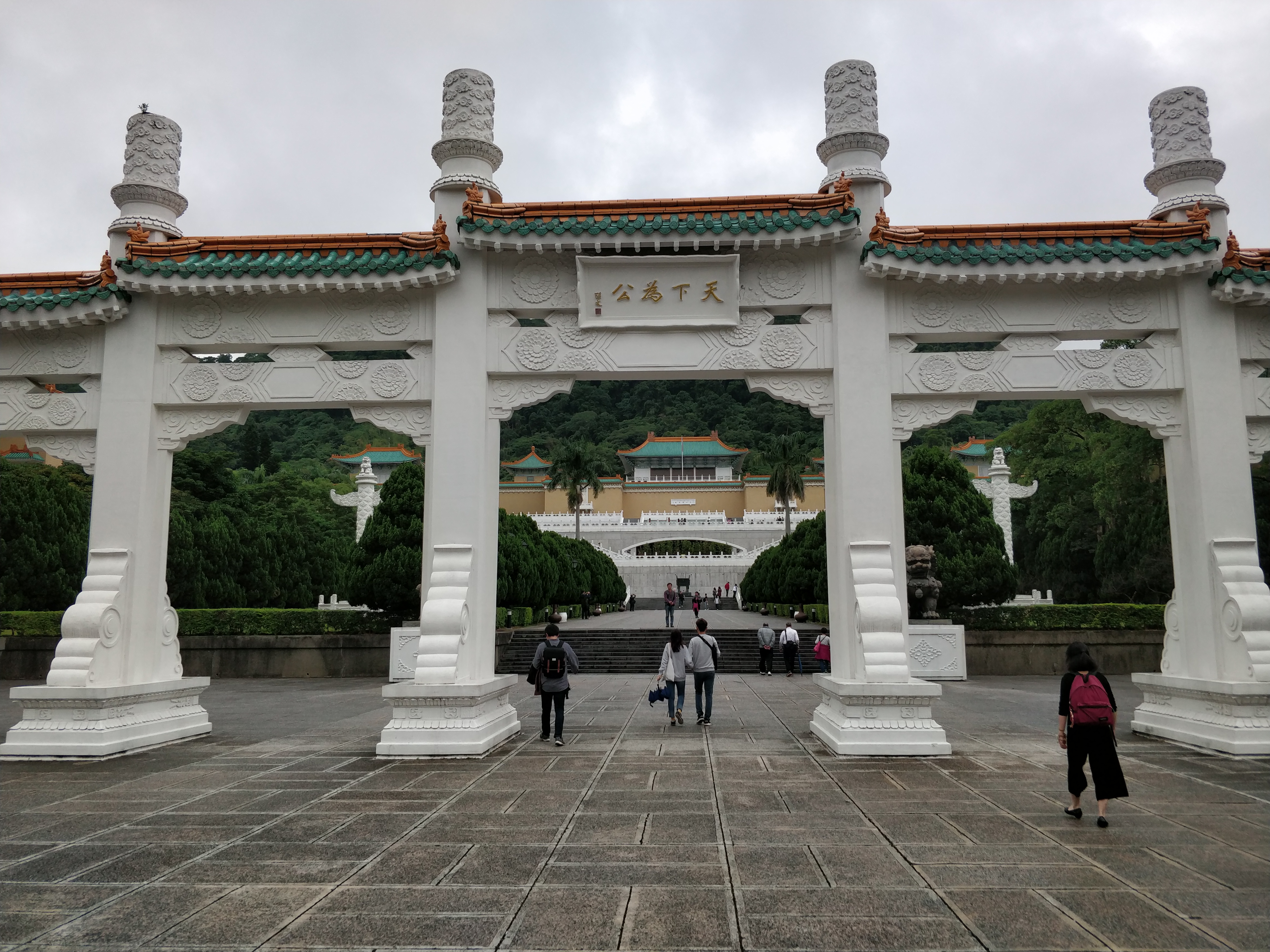 We weren't allowed to take pictures in many of the exhibitions, but I did take one (see below)! It was mostly about the history of China and the relics that came from there when the socialist party were exiled to Taiwan. I'm not much of one for remembering things in museums, but I did enjoy looking at the artefacts and the artwork!
We then headed back more into the city and had a MOS burger each, who sell a burger which is essentially just an ordinary burger except the bread part is made of rice. Pretty messy, but very nice!
It was then pretty much time to head to the airport, which means the end of my 4.5 months in Asia… We ate at a Taiwanese restaurant in the Taipei Main Station, and then I got the airport MRT back to the airport.
One cool thing: I bumped into both of the members of Twoset Violin in the airport!
I then got on a plane and I was back in Newcastle 20 hours later!
I said hello to my mam and family for the first time since August.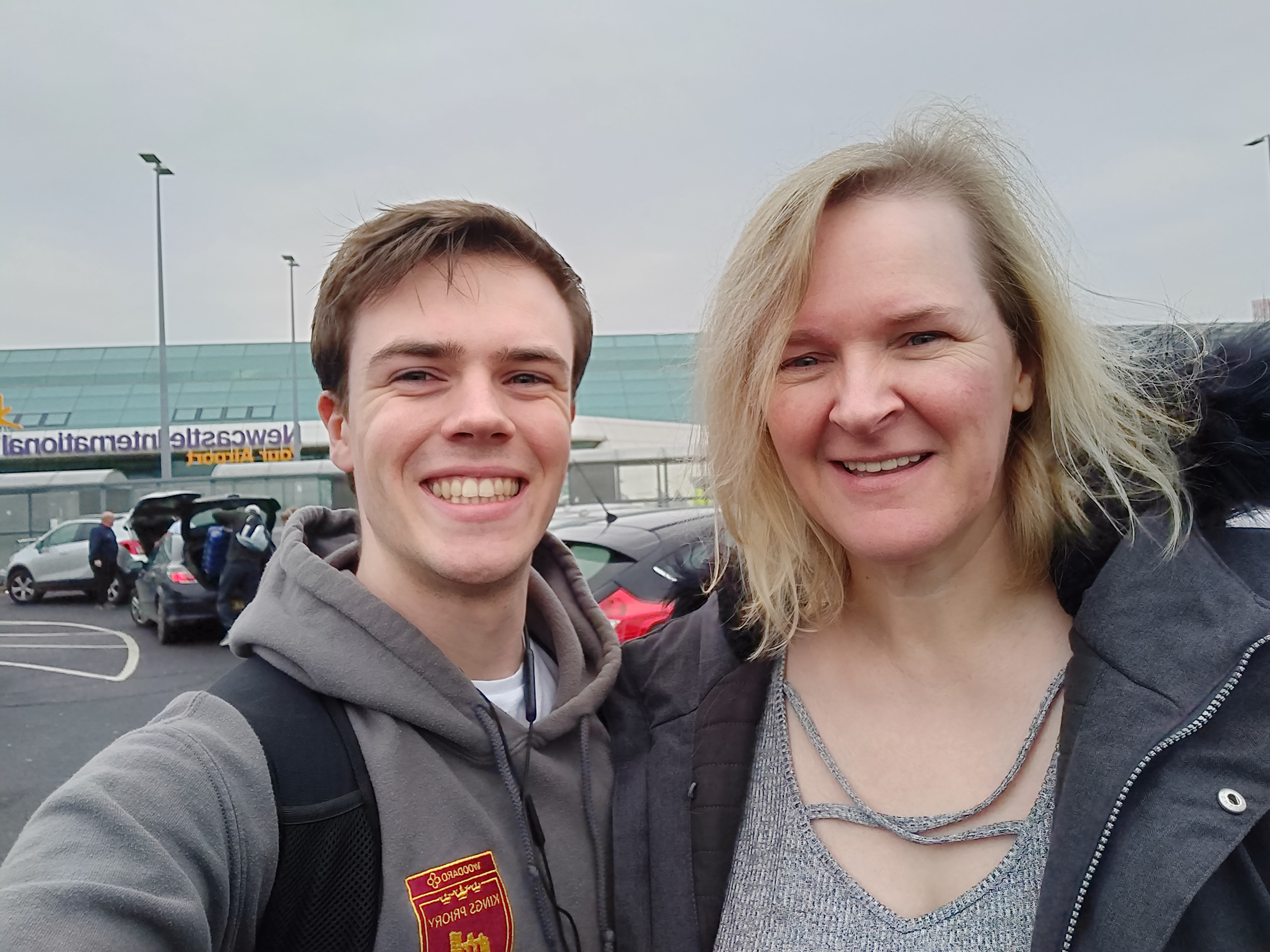 As it happens I'd also travelled home in complete secrecy to surprise my girlfriend, Eleanor, in Nottingham… So 44 hours after I left Taipei, I was in Nottingham surprising her.