The day is finally here of the opening ceremony for the 24th World Scout Jamboree!
A bit of a wet start to the day walking to the morning rehearsal, but it pretty quickly cleared up into a dry but cool day (yay!).
After the rehearsal, we did a little exploring around the Global Development Village, which is where countries show off their cultures and what they have to offer as well as various performance stages. We saw a really cool Navy band!
We then did a little exploring around and went into the Sustainable Treehouse which collected power from all sorts of different renewable sources.
We then reported back to the band tent and the entire band headed back over to the treehouse to meet a 'special guest', but they were running late and we didn't get the chance to meet them… We later found out it would've been Bear Grylls.
It was then time for the show to begin!
The Jamboree Band staff were given the job of 'stewarding' the front of the stage, which essentially meant we were making sure people didn't cross the barriers and everyone was having fun! It also gave us some pretty spectacular views of what was going on!

Whilst waiting for the ceremony, several people were taking selfies with the awesome crowd. I decided to photobomb one of them and the guy very kindly gsve me his number and said he'd send the photo over to me. My line manager then discreetly came up to me and told me that that was the Contingent Leader for Mexico (one of the host countries!).
Soon, the ceremony begun and representative participants carried their country's flag. The idea is that every country represented at the Jamboree is called out and when a country's is said, the representative waves their flag and people from those countries cheer. It's personally one of my favourite bits of the ceremony!
The actual entertainment of the ceremony began with music from the Lion King musical, which was really well performed!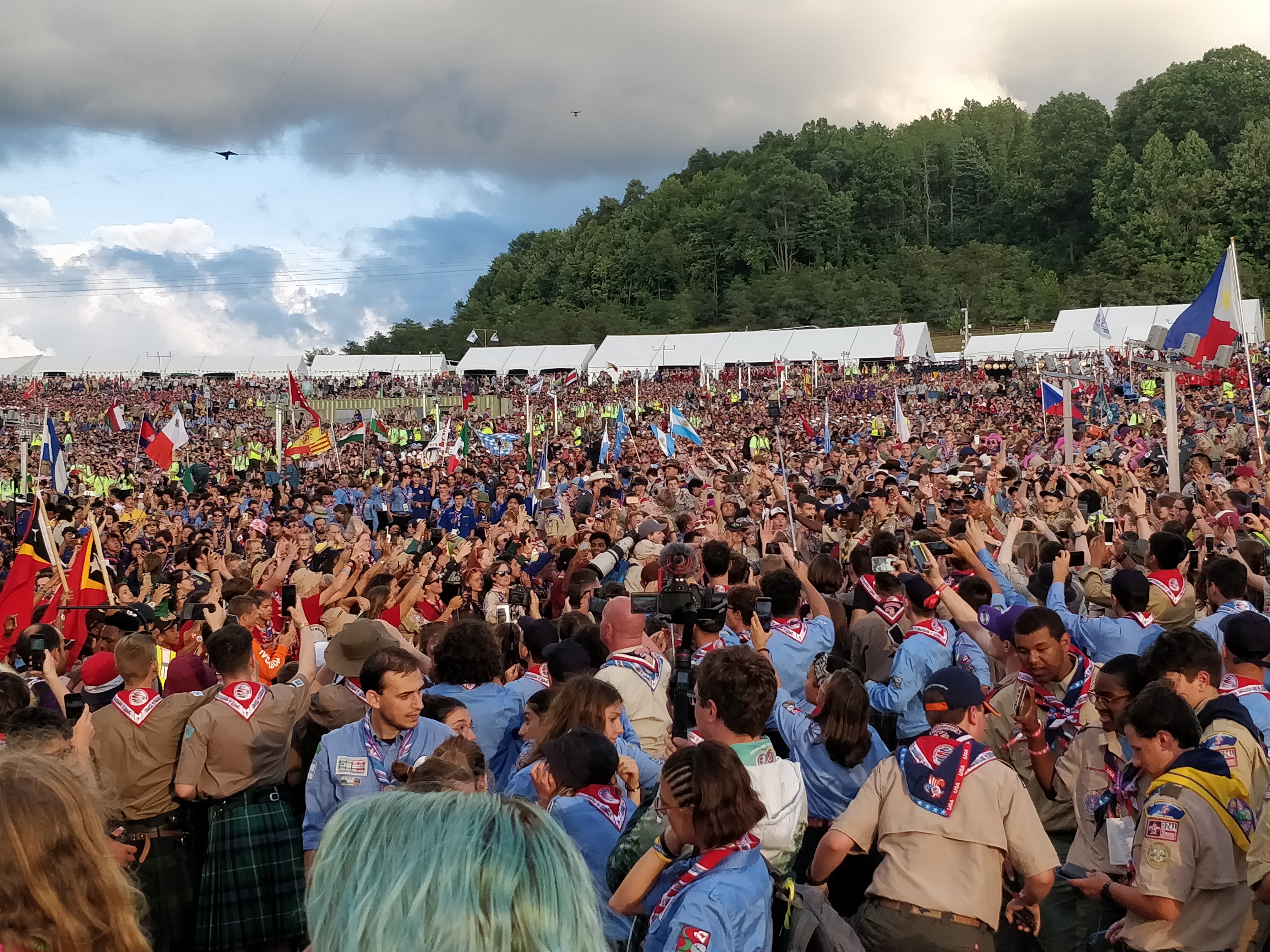 A few days before the ceremony I volunteered to man the house lights in the audience, so as soon as it started getting dark I moved into my new position and got to see the shoe from a totally new perspective!
It got dark and there was a really impressive percussion band who made some of the instruments and music out of recycled items.
But the coolest thing of the entire night for me by far was the army of drones that powered with what I would call a drone light show. Various things were spelt in the air and seriously impressive moving 3D objects were also created. The photographs do not do it justice!